Speedos, Spiderman, And The Tao Of "WOO!": Astros' OF Josh Reddick
He wears a complete Halloween Spiderman costume beneath his Houston Astros uniform; he runs around the clubhouse in his patriotic Speedos, and his love of wrestling elicits a torrent of lusty "WOO"s from the right field bleacher seats at Minute Maid Park. He's Astros right fielder Josh Reddick, and he's either a certifiably loosely attached nut, or an enviable, inspiring free spirit. He actually may be both.
Reddick, even as an animated 30-year-old, still has the bearded, goofy countenance of a college kid on a weekend bender, and with just enough extra hair to be excluded from middle management.
Web Design
A sore back kept him from playing in the final week or so of the regular season, but Reddick batted .375 in 16 at-bats against the Boston Red Sox in the American League Division Series, as the Astros prevailed, 3-1, propelling them into the AL Championship Series against the New York Yankees.
He had 2 RBIs in the series, including the crucial go-ahead run-scoring single in the 8th inning of the ALCS-clinching Game 4. And, with each hit, Reddick flashed the iconic Spiderman web-shooting hand gesture in the direction of the Houston bench immediately at his base arrival. What else would you expect from a man wearing full-length Spidey garb?
While other base-reaching players mimic crude throat-slashing, or self-congratulatory chest-thumping, or glare defiantly into the opposing dugout, Reddick is content to simply let his endearing freak flag fly, happily (and harmlessly) unleashing his inner 14-year-old. After all, this was the man whose walk-up song used to be 1984's "Careless Whisper" by George Michael. Watch the fun when the Astros visited Oakland back in April, and the A's welcomed Reddick back by playing "Careless Whisper" as Josh's walk-up for the visiting team.
Lest you assume Reddick has no superpowers to back up his Spiderman jones, don your x-ray specs and witness these two near-identical wall-climbing exploits, not only from the same game, but against the same batter! And, all without webbing.
No doubt a high point in his life, Reddick, while with the Dodgers in 2016, actually met Stan Lee, longtime Marvel Comics editor, and co-creator of Spiderman. He even unbuttoned his Dodger jersey for Lee to reveal his "Spidey" threads.
Related: The Chronicles of Reddick: Houston and the New Left
For the Astros in 2017, Reddick hit .314 during the regular season, and contributed 82 RBIs and 13 home runs, as well as a .484 slugging percentage and an .847 OPS, both career highs for the nine-year veteran.
Reddick has managed to avoid being platooned by hitting .315 (29-for-92) against southpaws in the regular season. Manager A.J. Hinch, therefore, had no problem inserting the 6'2″, 195-pounder into the ALDS lineups against the Boston Red Sox, even against the dominant lefty Chris Sale, despite a .214 average (3-for-14, with 4 strikeouts) in his career against him.
Georgia Dog
Ironically, Reddick (nicknamed "Red Dawg;") was drafted by the Red Sox in the 17th round of the 2006 draft out of Middle Georgia Junior College. "You can prepare for that day all of your life, but once it actually happens, there's no way to be ready for it," Reddick said recently in an interview. "Your adrenaline is pumping and there are some butterflies going around. I mean, you're playing with guys that you watched on TV growing up."
Reddick was born in Savannah, Georgia, and first picked up a bat at age 4, for a brief stint with T-ball. He attended South Effingham High School in Guyton, 28 miles northwest, and still lives there in the offseason. Reddick also played ball for his middle school, but was cut twice from the team.
It may have been around the time of one of those middle school disappointments that brought about some wise words from Josh's dad: "My father told me, 'Never let anyone tell you that you're not good enough,'" Reddick explained in a 2015 interview with Savannah's St. Joseph's Hospital System. "I've been told throughout my life and even in my career that I wasn't good enough, but I wasn't going to let that stop me. I made sure that I worked hard at it, to prove those guys wrong."
Previously a shortstop, Reddick made the move to the outfield during his junior year for the Mustangs at South Effingham. Reddick then attended MGJC, where, as a freshman, in 2006, he hit .462, with an OPS of 1.171, to go with 7 home runs and 35 RBIs.
Four days before 2012, Oakland acquired Reddick in a trade with Boston, and he promptly graduated from part-time Red Sox outfielder into a productive five-year starter for the A's. He earned a Gold Glove Award in 2012, and turned in a combined .257 BA, with 84 home runs, and an 86% stolen base percentage, pilfering 36 bags in 42 attempts.
After a trade to the Dodgers on August 1, 2016, Reddick was signed as a free agent by Houston nearly four months later. Reddick's four-year deal with the Astros is valued at $52 million.
The Squared Circle Angle
Returning to walk-up songs, as a longtime fan of wrestling and the WWE, Reddick has gone through a few other walk-up songs, namely "The Game" by Motorhead, apparently Triple H's wrestling theme. Reddick was actually able to score a WWE Championship belt from Triple H himself about five years ago and managed to find a company to fashion a similarly massive belt with the orange Astros "H" star logo which he began awarding to each game's most valuable teammate.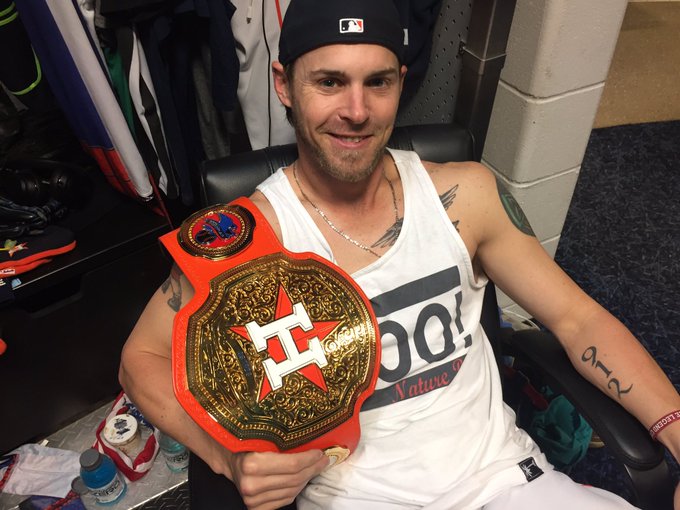 The "WOO!" chant adopted by Astros fans has been duplicated on a tank top worn by Reddick with the trademark phrase of wrestler Ric "Nature Boy" Flair in large black letters.
Video: Watch Reddick rake on a wrestling trivia quiz by MLB Network's "Intentional Talk" hosts
Old Glory
Reddick's now-trademark American flag Speedo first emerged while he was with the A's, and makes its curious appearance each time his team wins a playoff series. It (and only it) was getting doused in the Astros' clubhouse when Houston clinched the AL Western Division, and more recently, at the Game 4 ALDS clincher against the Red Sox.
The Josh Reddick Many Fans Don't Know…But Should
According to the October 9, 2017 Savannah (GA) Morning News, "Reddick is donating nearly $1 million to build a state-of-the-art, artificial turf baseball field at the new (Effingham) central recreation complex.
"The artificial turf field will allow children with special needs, in wheelchairs or living with other challenges, to play on a level field and enter dugouts designed with their needs in mind.
"'This will be a premier facility that will draw groups from all over Georgia and surrounding states,' Jan Landing, secretary of the Josh Reddick Foundation, said in making the announcement. 'Reddick has been dreaming of doing something like this in his hometown for a while.'
"The Josh Reddick Field will be ready for spring, 2018 play."
The on-field Josh Reddick will be ready to play in the ALCS and, with any luck (or superpowers), help bring the city of Houston a World Series championship.
Related: ALCS Game 1: Astros Edge Yankees, 2-1, Behind Keuchel's 10 Ks
Brad Ramone with (L-R) Dee Dee, Johnny, and Joey Ramone, backstage at Houston's Liberty Hall, July, 1977.

Johnny, the Ramones' influential guitarist, who passed away in 2004 at 55, was an avid baseball and New York Yankees fan since childhood. He even once ranked baseball above rock'n'roll in a personal Top 10 List!

Like Johnny, my love for rock is only equaled by my love for baseball and my hometown Houston Astros, present and past!

At TRS, you'll get full Astros coverage, minor league peeks, player profiles, interviews, MLB historical perspective, and maybe a little rock'n'roll!
Latest posts by Brad Kyle (see all)