Texas Rangers Buried In Cellar. Authorities Alerted; Astros #1 Team Of Interest
The Houston Astros are in the Texas Rangers' heads. The last couple of years, it was the other way around, and the head-to-head reflected it: The Rangers owned a two-year 28-10 record against H-Town coming into 2017.
The Rangers managed to salvage the finale of the four-game series in Houston, Thursday, but losing three out of four to the AL West leaders, the Astros, served to further entrench Texas in last place.
One big reason the Rangers are no longer in Houston's heads is a full two-thirds of the Astros' current starting lineup was not with the team a year ago: Alex Bregman, Yulieski Gurriel, Brian McCann, Josh Reddick, Nori Aoki, and Carlos Beltran know nothing of, and care nothing about, the struggles their current team previously had against the Arlington Nine.
Houston's Series Win in Review
Thursday, May 4: Coming into the 4th and final game of this series, the Astros had out-scored Texas, 8 to 3.3 runs a game, outhit them .308-.216, and had struck out only ten times to the Rangers' 41. Bullpen ERA for the first three games? Houston: 2.08, Texas: 10.38.
The good news is that Houston starter, Joe Musgrove, struck out the side in the first inning of Thursday's game. The bad news is he also staked the Rangers to a 4-0 lead, by yielding 5 hits, including a homer. Houston strung a couple hits and a Texas error together into a run to answer, as the Rangers took a 4-1 lead into the 2nd.
Marwin Gonzalez led off the 4th with his 9th home run of the season. He's homered in five consecutive starts –for 6 homers– and four straight games, playing four different positions. The Astros' record for consecutive starts with a HR is six (Morgan Ensberg in April '06).
Related: Marwin, Astros' Secret Weapon, Could Be AL MVP, If…
The Houston bullpen collapsed, and the Rangers, still looking up at the Astros from their last place perch, now 7 games out, proudly flew out of Houston Intercontinental, winning 10-4, over and out.
Wednesday: In the third game of the series, Houston starter, Charlie Morton tossed three no-hit innings (collecting 6 Ks in the first four frames), while Carlos Correa and Brian McCann each smashed 2nd-inning four-baggers. McCann's was the 1,600th long ball in the 18-year history of Minute Maid Park. Correa ended his night 4-for-5 in the Astros' 10-1 drubbing of Texas. Correa was the recipient of the belt this night (see below).
Monday and Tuesday: Monday night, Rangers starting pitcher, Andrew Cashner, hit both Jose Altuve and Yulieski Gurriel on their well-padded elbows. Some time later, in the 6th inning, Houston pitcher Lance McCullers, Jr. threw a pitch about a foot behind Mike Napoli, parallel with his numbers (and nowhere near his head as Ranger apologists would have you believe).
Related: McCullers Pitches For Pups and a Pennant
Sure, Napoli had hit a home run in the 4th, but McCullers has enough control of his 97 mph fastball to hit someone if he wanted to. Post-game, McCullers said while trying to pitch inside, the ball simply got away from him (much like Cashner's two pitches did earlier).
Judge for yourself with this video.
Thankfully, no fists flew, and Tuesday's game was devoid of fireworks, except for the ones provided by Houston's third comeback of the year from 5 runs down. The last time Houston came back from 5 runs down to win was in 2008 against the Giants. The Astros' single-season record for 5+ run comebacks dates back to 1995, with four.
Marwin hit two home runs in the Tuesday game (from each side of the plate), including a dramatic 8th inning grand slam with two outs, his 7th homer of the season. The last time an Astros switch-hitter blasted a homer from both sides was Lance Berkman in a 2006 game.
Boot Scootin' Noogie
One of the reasons the Astros were "re-accommodated," in 2013, to the American League from their 51-year perch in the NL was to push the two teams together to play nice more frequently, instead of the puny, six-game interleague matchups previously arranged.
If you're not a Texan, and can't quite grok what this mounting feud is all about, think Yankees/Red Sox, Cards/Cubs, or 2016-era Hillary/then candidate Trump. Or, major airlines/passengers.
Dangled before each team since 2001 has been the Silver Boot, a silver, size 15, 30-inch tall trophy awarded the winner of the Lone Star Series. Coming into this year, the Arlington denizens enjoy a 12-4 advantage over H-Town.
A new Lone Star Series wrinkle will be this new charity component, according to the May 2, 2017 sportsday.dallasnews.com: At a Monday news conference, the Texas Lottery's sponsorship of the Lone Star Series between the 2 teams was announced: "Texas Lottery Commissioner, Robert Rivera announced that the Lottery will make a $20,000 donation to the charitable foundation of the team that wins this year's series."
Pardon Me, But May I Have This Rhubarb?
One of the well-publicized dust-ups both teams have been involved in in the last two years, included choreography no more threatening than seen in summer stock:
In this video from 2015, catcher Hank Conger encourages a sloth-like Rougned Odor to shuffle into the batter's box before Christmas. "Oh, yeah?" were probably Odor's next words as the two converged, and as quick as you can say, "junior high dance," both benches emptied, and 50 uniformed men gathered to do nothing more than chat while grimacing. Monday night's Texas two-step will be added to the canon of pushing and shoving enjoyed by the only Lone Star State teams.
They'll meet again in Arlington in early June for a three-game set, and the following week, June 12-14 in Houston.
Ends….
Houston ace, Dallas Keuchel, was named American League Pitcher of the Month for April, his fourth career such honor, most in franchise history. Keuchel went 5-0 with a complete game, and a 1.21 ERA in his six starts in April. He allowed 25 hits and 11 walks, while totaling 36 strikeouts in his 44.2 innings. The Beard led the major leagues in wins and innings pitched in April, while ranking third in the AL in ERA, and in opponent batting average of .164.
Avid WWE wrestling fan (and Astro OF) Josh Reddick will award a massive, custom-made, gold and Astro logo wrestling belt to each win's player of the game. He'll be the referee for anointing the recipient, replete as he is with an authentic, striped referee's shirt. WOO!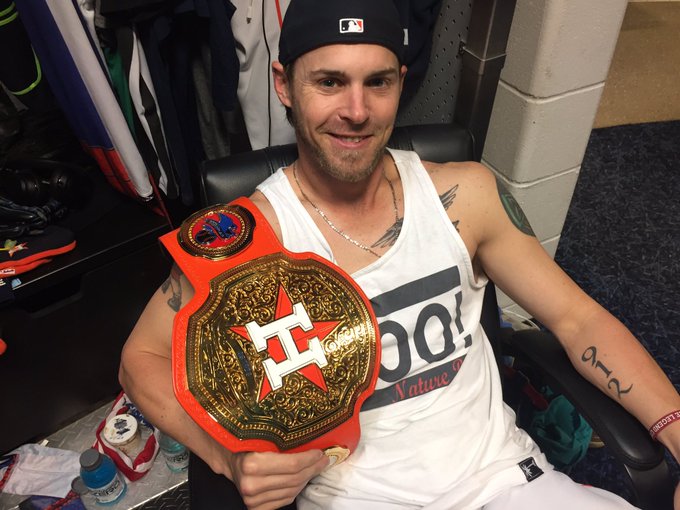 ….'n' Odds
For you responsible wagering types, I'm betting you might want to know that Bovada, an offshore online sports betting site just increased the Astros' chances of winning the World Series. With a before-season odds of 14-1, Houston's chances of winning it all are now a tantalizing 8-1.
Conversely, the Rangers' odds of claiming the World Series crown have now been officially lowered to "you've got to be kidding."
Brad Ramone with (L-R) Dee Dee, Johnny, and Joey Ramone, backstage at Houston's Liberty Hall, July, 1977.

Johnny, the Ramones' influential guitarist, who passed away in 2004 at 55, was an avid baseball and New York Yankees fan since childhood. He even once ranked baseball above rock'n'roll in a personal Top 10 List!

Like Johnny, my love for rock is only equaled by my love for baseball and my hometown Houston Astros, present and past!

At TRS, you'll get full Astros coverage, minor league peeks, player profiles, interviews, MLB historical perspective, and maybe a little rock'n'roll!
Latest posts by Brad Kyle (see all)