What The Astros Do When You're Not Looking, Pre-Spring Ed.
The split-second that the New England Patriots' James White broke the end zone plane, with the 6 points that ended the scintillating OT Super Bowl win over Atlanta, baseball fans began the countdown. Houston Astros fans were certainly among them. Spring Training can't come soon enough!
Interestingly (according to ESPN), news is leaking that New England QB Tom Brady may give his MVP-winning truck to White, having done similarly to CB Malcolm Butler in Super Bowl XLIX.
Keeping it Wheel
By all accounts, Houston performed beautifully as a host city, and while the Pats stayed up late celebrating, Monday morning the Houston Astros loaded two 18-wheelers with the contents needed for Spring Training. Destination: The 1,117 miles to West Palm Beach, FL, and the brand new facilities to be shared with the Washington Nationals.
NEW: Meet the Astros' New Spring Training Facility, The Ballpark of the Palm Beaches
Unloaded off the trucks Wednesday morning (courtesy of KTRK-TV/Houston):
4 – Treadmills/elliptical machines
30 – Pounds of rosin
150 – Batting helmets
150 – Belts
200 – Cases of sunflower seeds
250 – Astros jerseys
300 – Astros caps
300 – Cartons of bubble gum
1,000 – Pairs of baseball pants
2,000 – Pounds of laundry detergent
8,400 – Baseballs (700 dozen)
Astros radio broadcaster, Robert Ford, tweeted, "How do I know baseball is the greatest game in the world? Because its fans get excited about trucks being loaded with baseball equipment."
Bring The Shirt Off His Back Back
While news of the apparent lifting of Tom Brady's game-worn jersey from the Pats' locker room persists, Texas Lt. Governor Dan Patrick has asked the Texas Rangers to assist the Houston Police Dept. in finding Brady's jersey.
I'm not sure what detective skills Carlos Gomez and Rougned Odor possess, but apparently Patrick was specifically referencing the 181-year-old, Austin-based law enforcement agency, formally known as The Texas Ranger Division.
When the Texas Rangers finish searching for Tom Terrific's work shirt, they can turn their attention to scouring the countryside for anything positive regarding the Texas Rangers' outlook for 2017.
AL West projections, per @fangraphs: Astros 90-72, Angels 84-78, Mariners 83-79, Rangers 83-79, Athletics 77-85.
Lance and Mic's Super Bowl Adventure
Channeling his best Brent Musburger, and apparently buoyed by the recent retirement announcement of the 77-year-old broadcasting legend, Astros right-hander Lance McCullers picked up a microphone on Thursday, February 2.
The occasion was Super Bowl Opening Night at McCullers' workplace, Minute Maid Park, and Lance superbly interviewed Super Bowl players, coaches, and fans, including Brady, Bill Belichick, Danny Amendola, Julian Edelman, and a couple of Falcons.
Rooting for Dallas
During the hubbub of Super Bowl week, Houston's ace lefty, Dallas Keuchel (blue shirt, below), threw caution (and injury) to the wind, and played flag football with the Houston Texans' WR Wendell Williams. No word on who won, but Williams later reported his wallet missing.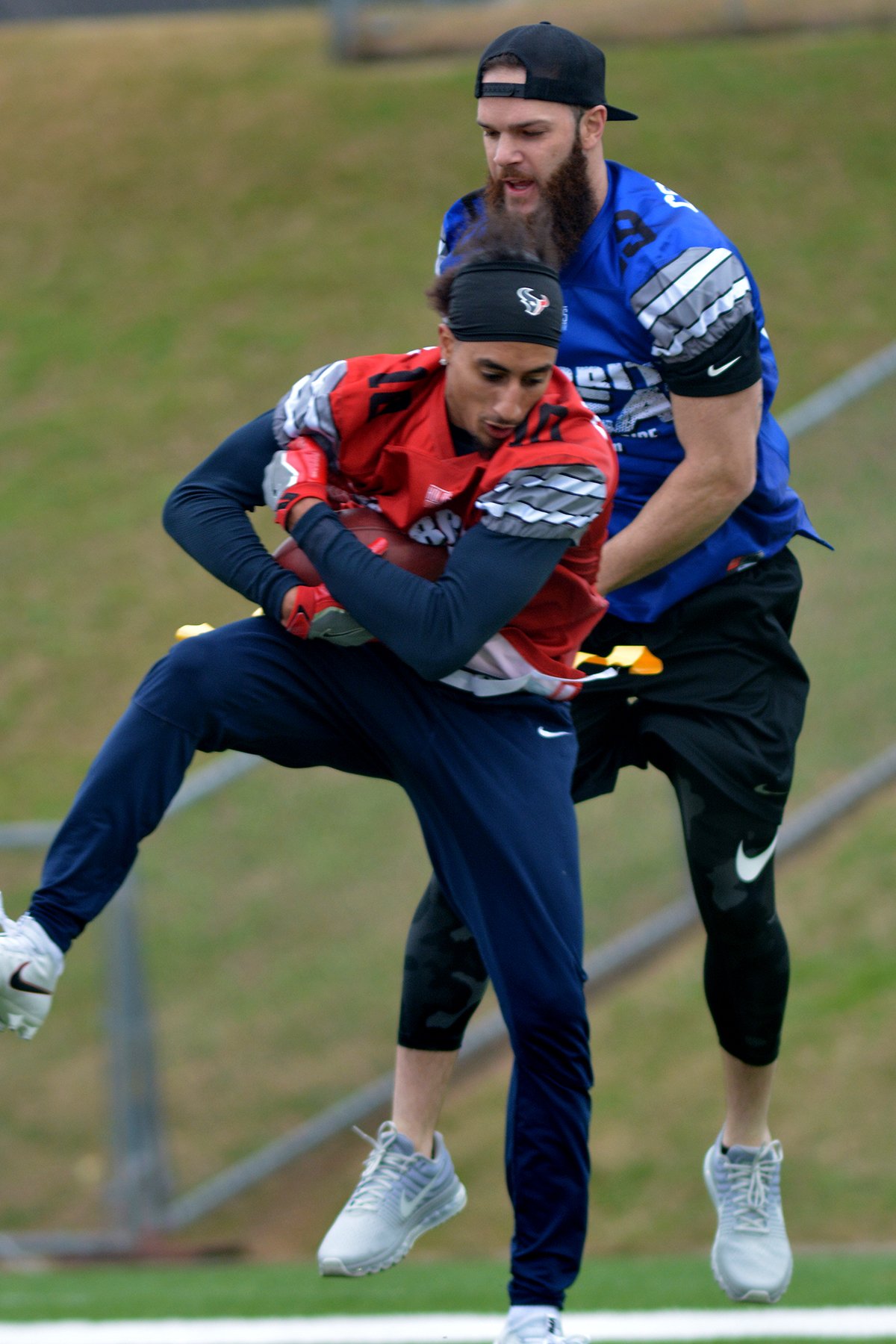 Where There's a Harris, There's a Way
Avoiding arbitration, All-Star right-handed reliever Will Harris, 32, struck a 2-year, $5 million deal with the 'Stros, February 3.
As Harris told MLB.com, "I'm grateful to the Astros' organization, and I'm looking forward to getting to work this spring and to see the guys, and also getting to know the new guys we've added."
Related: The Astro You Don't Know, But Soon Will: Harris
Harris made 66 appearances in 2016, including a short stint as closer, and posted a 2.25 ERA.
Starting righty Collin McHugh won his arbitration hearing, and will earn $3.85 million this year (the team had offered $3.35 million), while utility mainstay Marwin Gonzalez and the team avoided arbitration, February 8, by agreeing to a $3.725 million deal for '17. Tacked onto the agreement will be a 2018 team option for $5.125 million.
Related: McHugh: The Evolution of a Renaissance Man
Astros Stake Dayan
Thursday, February 2, Houston signed 28-year-old right-handed reliever, Dayan Diaz, to a Minor League contract, with an invitation to Spring Training.
Diaz made his MLB debut in '16, putting in little more than a cup of coffee with the Cincinnati Reds. Most of last season was spent at the Reds' Triple-A Louisville affiliate, where he logged a 7-1 record, and a 3.05 ERA in 40 games.
Diaz is actually a former Astros farmhand. He spent seven seasons (2006-12) as Houston property, after being signed by the team as a non-drafted free agent out of Colombia in 2005.
Related: Brignac, Centeno, & Riefenhauser are 3 More Non-Roster Invitees Joining Diaz at Spring Training
Too Soon to Start the MVP Chant?
Astros beat writer for MLB.com, Brian McTaggart, brings us this revelation: "Jose Altuve has 1,046 hits since he made his MLB debut on July 20, 2011. That's the most in the Majors in that span (Robinson Cano is 2nd with 1,028)."
Related: Altuve is The Reluctant Legend: Altuve and the Ty Cobb Connection
Baytown, Bellaire, Seabrook or Sugarland?
MLB.com's Joe Trezza has taken it upon himself to propose a most interesting list: Who Are the Top 5 All-Time Players From Houston? Read that carefully. Not "The Top 5 All-Time Houston Players." As Trezza describes his criteria:
"Players don't need to be born in the city to represent it. Inclusion criteria simply demands the player spent his formative years there, preferably high school, and that he did so within the city limits or in its immediately surrounding areas."
He uses stat-based criteria, too. If you know Major Leaguers, and from whence they came, you might want to try and guess Trezza's Top 5 All-Time Players from Houston, and then look to see how close you came. Remember, they don't have to have ever been Astros, although (hint) three of them were, at some point in their careers.
Brad Ramone with (L-R) Dee Dee, Johnny, and Joey Ramone, backstage at Houston's Liberty Hall, July, 1977.

Johnny, the Ramones' influential guitarist, who passed away in 2004 at 55, was an avid baseball and New York Yankees fan since childhood. He even once ranked baseball above rock'n'roll in a personal Top 10 List!

Like Johnny, my love for rock is only equaled by my love for baseball and my hometown Houston Astros, present and past!

At TRS, you'll get full Astros coverage, minor league peeks, player profiles, interviews, MLB historical perspective, and maybe a little rock'n'roll!
Latest posts by Brad Kyle (see all)